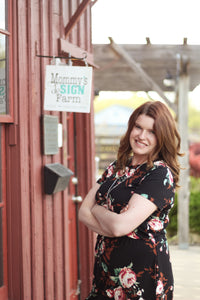 Welcome, creative friend!
Hello, I am Jessica owner of Mommy's deSIGN farm! I LOVE to get creative and want to share that passion with you! (MDF) specializes in DIY Workshops, where YOU can create fun, functional and unique wood home décor, cozy blankets and custom tumblers. Our studio is in Makers on Main Street Columbia, IL. We also travel all over the metro STL area for public and private events.
PUBLIC WORKSHOPS 
These workshops are great for you to come solo or bring a group. We specialized in wood décor like signs, clocks, holiday and 3D art.  Then, we also have beyond the grain which is tumblers, ceramics, doormats and cozy knit blankets. We guide you step by step thru the whole process. No skills are needed for you to go home with a beautiful custom piece that matches your style. To find out the upcoming projects and locations View Details
PRIVATE WORKSHOPS
Be the host of a workshop at your home or our Studio! Host paints a standard size sign free! Here are some of projects YOU can host!!
Sign Workshop View Details
3D Sign Workshop View Details
We offer FUNDRAISERS  View Details
CUSTOM PAINTED SIGNS
Want us to paint a sign for you? No problem we will do most of our signs for $10 more than you see in the gallery.
We also now have a etsy shop,
Vendor booth in Florissant MO, Waterloo IL and Arnold MO.
Makers on Main Street
115 Gundlach St. Columbia, IL
1060 Rue St. Catherine St
Florissant, MO (closing Jan 24)